Experienced Algonquin travellers know that a trip through the East Gate of Algonquin Park is one that comes with the rewards of fewer crowds, access to some of the best park experiences and a visit to the town of Whitney. 
Similar to the West Gate, travellers can stop for information, permits and a washroom break, but the East Gate is its own unique access point into the park, bringing with it new trails to try, breathtaking sights to see and accommodations just steps from untouched wilderness.  It's also much, much, MUCH quieter than the west, Muskoka gate.
In this article you'll learn:
What is Algonquin Park's East Gate? 

Where is Algonquin Park's East Gate located?

What is there to do near Algonquin Park's East Gate? 

Are there hotels near Algonquin Park's East Gate?

Can I drive through Algonquin Park without a pass?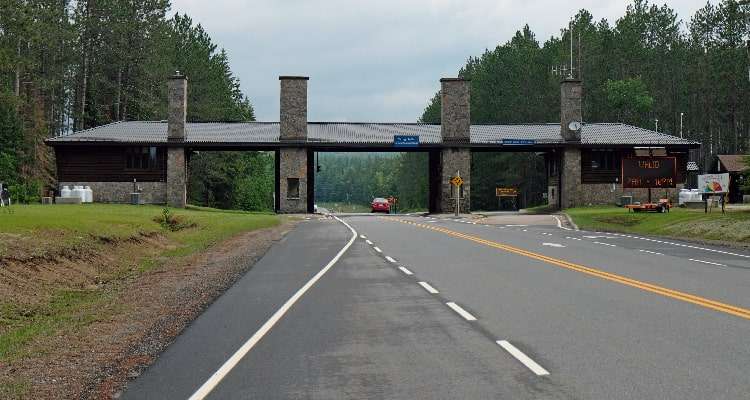 What is Algonquin Park's East Gate?
As the third largest provincial park in Ontario, established in 1893,  Algonquin Park is a key destination for local, national and international wilderness adventurers year-round. 
Algonquin Park is vast – over 7,000 square kilometres in fact –  which means there are nearly thirty different access points into the park.
While the park is larger than some countries and Canada's entire Prince Edward Island, there are only two official "gates" to the park – the West Gate, and the East Gate, which are found along the highway 60 corridor.
At these entrances travellers can:
Access information about Algonquin Park

Inquire about permits 

Stop for a washroom break 

Take in one of the two iconic instalments:
The East Gate is also conveniently located next to:
2 gas stations 

1 grocery store

3 restaurants 

1 gift shop and outfitters 

Bulk firewood
Where is the entrance to Algonquin Park?
Both the West Gate and East Gate of Algonquin Park are official entrances to Algonquin Park and both are located off of Highway 60. 
The West Gate is situated nearer to Highway 11, only about 30 minutes away from Huntsville, Ontario. 
Many travellers visiting Algonquin Park take Highway 11 to reach the park, which means that many coming from both northern and southern Ontario enter the park through the West Gate entrance. 
The East Gate is the primary entrance for guests arriving from Ottawa, or the east side of the province. Although the East entrance may be lesser known to those in southern Ontario, there are major benefits to taking the scenic drive along Highway 60 to enter the park from the east!
Where is Algonquin Park's East Gate located?
It takes just under two hours to get from Highway 11 (Huntsville) to the Algonquin Provincial Park East Gate. 
Algonquin's East Gate is 5 kms away from the quaint and lovely town of Whitney, Ontario, which is part of the South Algonquin township that lives at the south-eastern border of Algonquin Park. 
The drive to Algonquin's East Gate along Highway 60 from Highway 11 is winding, scenic, and breathtaking. It's a drive thousands of people make from around the world, especially to see the spectacular Algonquin fall colours. 
There are many stops you can make along the way, including cafes, convenience stores, or hiking trails that each boast their own gorgeous, picturesque views.
Although the trip to reach the East Gate may be a little longer, if you plan to make a stop to stretch your legs and get a delicious bite to eat, it's well worth the extra travel time. 
The East Gate is a hidden gem for those who hope to visit Algonquin Park while avoiding the hustle and bustle of the Muskoka and the crowds you tried to leave behind in the city.
Also read: Snowmobile Trails Ontario – Top 5 Best Trails Near Algonquin Park
What is there to do near Algonquin Park's East Gate?
There are many interpretive walking trails to access near the Algonquin East Gate, each of which is exciting and beautiful in its own way.
Activities outside of Algonquin's East Gate
The town of Whitney is only 5 kms away from the Algonquin Park East Gate. Visiting is like a trip back in time, as this authentic little village remains much the same as it was during the logging heydays of the early 20th century.
Whitney is a wonderful place for those who need to re-stock during their adventure, as well as those looking to slow down, sit back, and relax. 
Check out the Whitney Business Directory to learn about restaurants, accommodations, recreational activities, and outfitters you have access to in Whitney, Ontario!
Also read: Shooting Stars Galore: Your Guide to the Best Meteor Showers of the Year
Your South Algonquin travel plans
Are there hotels near Algonquin Park's East Gate?
There are plenty of comfortable places to stay if you're booking a trip to South Algonquin near the park's East Gate. If you're ready to scan your options and book your stay – this is the list for you!
Tents, yurts, tiny homes, and cabins
Wilderness Campground (opening June 29, 2023)
For those who are a little more adventurous and who really want to rough it in the wild, there are also backcountry camping options to choose from!
Can I drive through Algonquin Park without a pass?