Welcome to Rolling Rapids Motel
Take in the wonder of the Milky Way and the sounds of the rushing rapids just outside of your doorstep at our beautiful waterfront property, the Rolling Rapids Motel.
Escape to the shores of the Madawaska River in downtown Whitney, just minutes from Algonquin Provincial Park's East Gate. Fall asleep to the gentle sounds of the river in one of the Rolling Rapids Motel's four waterfront units or stay on the other side, just steps from restaurants, shops, a grocery store and the heart of a historic downtown.
Enjoy perks like access to our complimentary guest rental program, earn rewards points towards free stays and a FREE Algonquin Park Day Pass. Or, simply sit back and relax in one of our Muskoka chairs and take in an unforgettable view.
Explore the Rolling Rapids's 13 unique rooms and check our available dates to begin planning your trip today.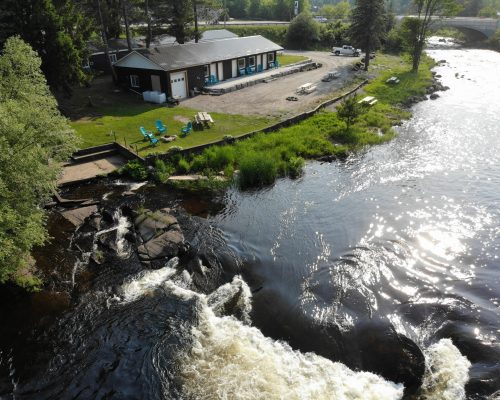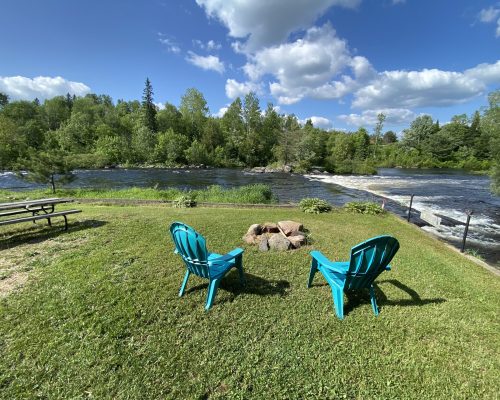 All of our rooms include a microwave, coffee maker & Bar Fridge, Air Conditioner, Electric Heat, TV with satellite service, Free WI-Fi, Free Parking and free use of our picnic area with a fire pit that is located on the shores of the breathtaking Madawaska River.
Guests Love Rolling Rapids
I rather enjoyed the rustic charm of the place and our room, it wasn't a cookie cutter, it had character and charm. The falls were beautiful and I wish we had more time there.
We had a great time at Rollin Rapids motel. The communication was super easy and quick and the place looks exactly like it does on the pictures. The neighborhood is very conveniently located and is very quiet! One of the main reason I choose this place was because how close it was to Algonquin West Gate (8 min ish Drive). Would absolutely recommend to stay here and am looking forward to staying here again one day.
Always our choice stay when travelling in the area. The peace and quiet along side the river is completely relaxing. Rooms have everything you need and more. Recent and ongoing renovations are looking very good.