Are you looking to experience the beauty of the great outdoors by snowmobile in Ontario? Look no further than a snow mobile adventure in South Algonquin!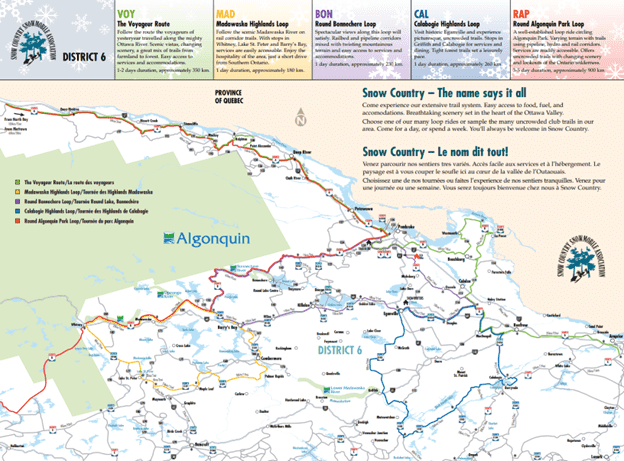 Picture courtesy of Snow Country and OFSC.
If you're looking for the best snowmobile trails in Ontario, you're in the right place! 

Snowmobiling or Skid-doo-ing is a popular winter activity for adventure seekers across Ontario, especially in the South Algonquin area, offering hundreds of km's of groomed trails and backcountry terrain suitable for riders of all abilities. It's the perfect destination for a winter getaway, providing the opportunity to get off the beaten path and explore the legendary Ottawa Valley.
South Algonquin has the advantage of having a lower snowmobile trail density, ensuring a more enjoyable and relaxing tour for visitors. Many snowmobilers are pleasantly surprised by the quality, convenience, and volume of snowmobile trails available here!
In this article, you'll discover:
Where to start
Planning your trip
Round Algonquin Park Tour (RAP)
Madawaska Highland Tour (MAD)
Round Bonnechere Loop (BON)
Forest and Rail Loop (FAR)
Ontario East Rails & Trails Loop
Snowmobiling off the Beaten Path
Other things to do in the area
Affordable accommodations near Algonquin Provincial Par
Snowmobiling in Ontario: Where to start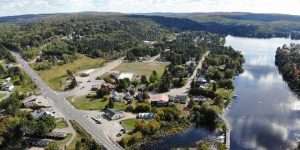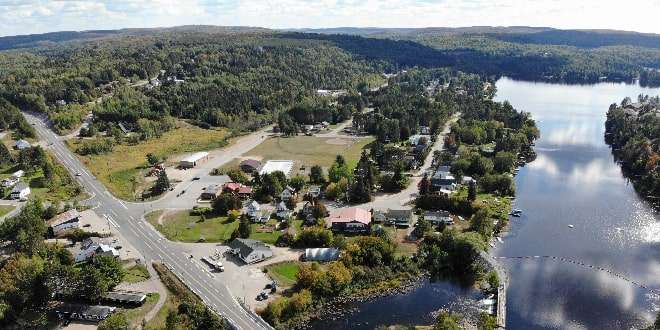 South Algonquin is located on the border of Algonquin Park's East Gate, in the Snow Country region of district 6 of the OFSC TRAILS (Ontario Federation of Snowmobile trails Club). South Algonquin is the best place to make your home base when snowmobiling up north. The village is well-equipped with a grocery store, LCBO, and two restaurants, the Mad Musher and Algonquin Lunch Bar. South Algonquin also has two gas stations for convenience. They are the Algonquin Lunch Bar and Perrys Pit Stop.
Snowmobile Resorts Ontario: Algonquin Accommodations 
For a great night's sleep, Algonquin Accommodations provides two great year around locations to choose from. They are the Dream Catcher Motel and East Gate Motel. These accommodations are located right on snowmobile trails. They include many updated features, including rooms with jacuzzi tubs or luxury shower spas to help you rejuvenate your body at the end of an exciting day sledding. All rooms include TV, FREE WIFI, and access to a picnic area with a fire pit and BBQ. Rooms are also equipped with fridges, microwaves, and coffee makers including free coffee to get you off to the right start in the morning.
We also have a secret to share with you: Algonquin Accommodations also offers FREE truck and trailer parking for guests who are doing a larger snowmobile trail tour where staying at multiple locations is necessary! Email our office to find out more!
***TIP*** Whitney is also one of only two places where you're allowed to enter Algonquin Park on snowmobile trails. That's right, you can sled through the park from here!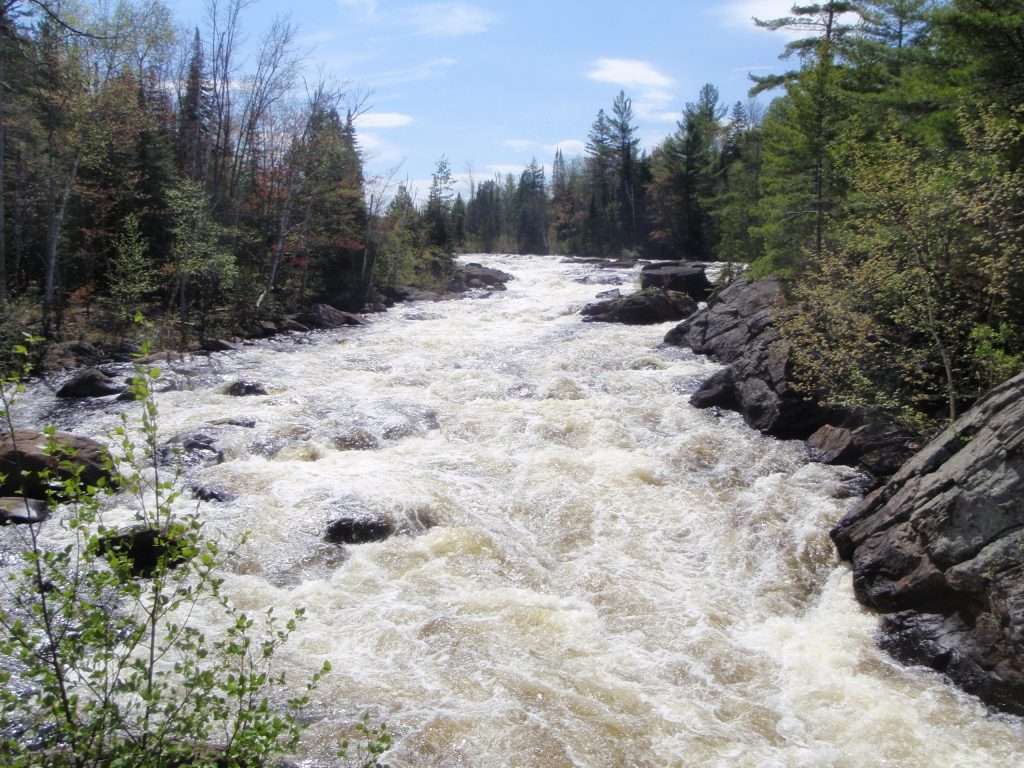 Snowmobile in Ontario: Planning your trip
The main trail in South Algonquin is the Top B trail. This trail starts at the East Gate Motel in Whitney and follows the Old Rail trail east towards Madawaska and beyond. This trail is nothing short of spectacular! Heading east, it follows the majestic Madawaska River for miles. Madawaska means "Mad Rushing Water" and the name never disappoints. It visits no less than 4 majestic waterfalls in the first 30km alone. Heading west, it heads into Algonquin Park, making it one of only two locations you can legally use snowmobile trails in Algonquin Park! The Top B Trail is part of the RAP and MAD Tours (more on these in a bit). Another prominent snowmobile trail in South Algonquin is the B106E. Also starting at the East Gate Motel, but this time running parallel with highway 127 heading Southeast, towards Bancroft and Haliburton. This trail is part of the MAD Loop but connects to many other trails for a custom riding experience .
The 175 snowmobile trail runs from Maynooth to Madawaska and up to Highway 60 before Whitney which connects to the Top B right at the Madawaska River.
Another trial of interest is the 159 trail that heads south to Spectacle Lake Bear Mountain.
Thanks to the South Algonquin Business Alliance and the Eastern Ontario Trails Alliance, the Old Rail Trail has been brushed and refurbished and is in tip top condition."
Winter in Algonquin: Be Prepared
To have a fantastic snowmobiling adventure in South Algonquin, it's crucial to be prepared for the weather and trail conditions. Always dress in layers to stay warm and comfortable during your ride. Additionally, the Algonquin snowmobile club Ontario Federation of Snowmobile Trails Clubs (OFSC TRAILS) provides regular trail condition updates, so make sure to check their website or email Algonquin Accommodations for the latest information.
When planning your trip, it's a good idea to have a map of the area handy. You can obtain a free OFSC trail map by contacting Snow Country at snowcountry@nrtco.net. Alternatively, you can access an interactive OFSC TRAILS trail map on their website Trail Guides – Ontario Federation of Snowmobile trails Clubs to help plan your snowmobiling route.
Algonquin Accommodations also has a limited number of maps available each year. To reserve your copy before your trip, simply email us and secure your map for added convenience.
See also: Unleash Your Inner Adventurer on the Old Rail Trail in South Algonquin – Algonquin Accommodations (algonquinpark.com)
Best Snowmobile Trail #1: RAP TOUR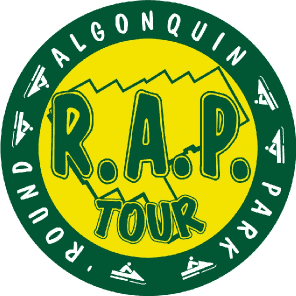 The Round Algonquin Park (RAP) snowmobile trails tour is a beloved and well-marked trail encircling Algonquin Park in Ontario, Canada. This impressive snowmobile trail, stretching approximately 900 kilometers, is meticulously maintained by the Ontario Federation of Snowmobile Trails Clubs (OFSC TRAILS) and offers a thrilling mix of utility corridors, abandoned rail lines, old logging roads, and forest trails.
The RAP tour takes snowmobilers through a series of picturesque destinations that start in Whitney & South Algonquin but go on to include places like Haliburton, Pembroke, Mattawa, North Bay, and Dorset. Each of these locations provides a unique and enchanting snowmobiling experience, with thick maple forests gracing the Almaguin and Haliburton Highlands, and exhilarating trails meandering through hills and valleys to the majestic Madawaska River in South Algonquin.
For those seeking to ride alongside the scenic Ottawa River, there are trails running through hydro and gas corridors from Pembroke to Mattawa. Most riders prefer to complete the loop in a counterclockwise direction, ensuring convenient access to fuel, food, and services in the connected communities along the route.
Nature enthusiasts will be delighted to encounter a variety of wildlife, including moose, deer, lynx, rabbits, and timber wolves throughout the journey. The snowmobile trails in this area are thoughtfully organized into different sections: Trails TOP A on the east and north side of Algonquin Park, Trails TOP B on the south side of the park, and Trails TOP D and D101B on the west side of the park. Districts 6, 7, and 11 encompass a total of 14 individual club networks, each offering their own unique riding experiences.
Given the tour's length, many snowmobilers choose to complete it over several days, enjoying overnight stays in various towns and such as Algonquin Accommodations' East Gate and Dream Catcher Motels. As a valued customer of Algonquin Accommodations, you have the benefit of leaving your truck and trailer for FREE while you complete the tour. Just remember to call ahead to let them know you'll be needing extended parking to secure a spot as space is limited.
Many riders choose to make Whitney their home base for the RAP tour because you can find an array of services and amenities, including liquor, fuel, food, and accommodations, conveniently available nearby.
So, prepare yourself for an unforgettable snowmobiling adventure as you explore the diverse landscapes and captivating terrain of the Algonquin region. Before setting out, be sure to check with the OFSC TRAILS for the most current trail conditions.
See also: Algonquin Park Day Pass: Your Access to World Famous Wilderness – Algonquin Accommodations
Best Snowmobile Trail #2: MAD LOOP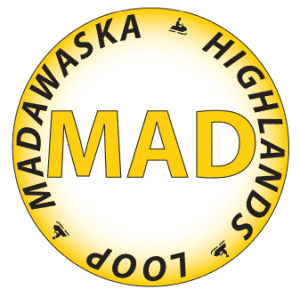 The MAD Loop is a favorite destination not only for enthusiasts but also for celebrities. Rumor has it that renowned singers, actors and NHL hockey players have taken on its challenge.
The MAD Loop is a single day 180 km snowmobile trail that follows the path of the Madawaska River, predominantly on rail corridor trails. Starting from Whitney, the trail passes through several towns, including Madawaska, Barry's Bay, Combermere, Maple Leaf, and Lake St. Peter. It uses  the TOP B, B102, E109, and B106E trails.
Several offshoot trails are accessible from the MAD Loop. They include trail 170 from Combermere to Palmer Rapids, trail 168 from Combermere to Purdy (which then connects to trail 173 to Cross Lake or E109), trail 173 from Cross Lake to Lake St. Peter, and trail 175 from Cross Lake to Madawaska.
Lodging is conveniently located right off the trail in Whitney at the Dream Catcher Motel and East Gate Motel. Dining options include the Mad Musher Restaurant and the Algonquin Lunch Bar, the latter of which also provides fuel along with Perry's Pit Stop. Additional amenities in Whitney include a grocery store and an LCBO. Due to its accommodations, amenities and location, Whitney serves as an ideal starting point for the MAD Trail.
Best Snowmobile Trail #3: BON Loop
The Round Bonnechere Loop, also known as the BON Loop offers a mix of scenic and thrilling riding experiences. It begins at Aylen Lake on the border of South Algonquin, making Whitney an excellent choice for your home base. This one-day snowmobiling adventure covers approximately 230 kilometers and takes you through a diverse landscape of railbeds, pipeline corridors, and twisting mountainous terrain. Along the route, you'll pass through various charming towns and communities, including South Algonquin, Barry's Bay, Wilno, Killaloe, Golden Lake, Eganville, Douglas, Osceola, and Pembroke.
The trails used for this loop include B102, B101A, TOP A, and TOP B. Additionally, there are several offshoot trails to explore, such as 150 from Wilno to Round Lake Centre, 148 from Round Lake Centre to Bonnechere or Traymore, 141 from Killaloe to Deacon, 115 from TOP A near Osceola to Cobden, 127 from TOP B to Petawawa, 124 from TOP B to 127 to Petawawa, B101A from TOP B to Deacon, B101A from TOP B to 148 to Traymore, B102 from TOP B to 148 to Traymore, 149 from TOP B to Bonnechere, and 148 from TOP B to Bonnechere.
With its varied terrain and scenic beauty, the Bon Loop, or Round Bonnechere Loop, promises an exhilarating snowmobiling experience. Make sure to plan your route accordingly and be prepared for a day of thrilling adventure through the picturesque landscapes of South Algonquin and beyond!
Best Snowmobile Trail #4: FAR Loop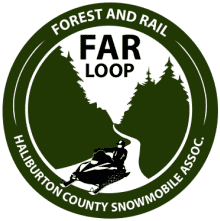 The Forest and Rail Loop, also known as the FAR loop, offers a captivating snowmobiling experience through the scenic areas of Minden, Haliburton, and Carnarvon. This 4–5-hour adventure covers a distance of 75 kilometers and includes a diverse range of attractions. Snowmobilers will traverse an abandoned railway line, cross a floating snowmobile bridge, and explore a trail with a history dating back older than Canada itself. The FAR loop also offers a short sample of the iconic Round Algonquin Park (RAP) tour.
Throughout the journey, riders will encounter staked and marked lake crossings, pass by CN locomotive 2616 and an Avro aircraft, and even come across an abandoned chemical plant. The route also boasts the thrill of navigating the world-famous white-water course and the tranquil beauty of the Sculpture Forest and Mount Minden.
The trails used for the FAR loop include 4, 8, TOP B, B103, and B112. Prepare yourself for an unforgettable journey through breathtaking landscapes and historical landmarks on the Forest and Rail Loop!
Best Snowmobile Trails #5: Ontario East Rails & Trails Loop
Embark on a thrilling snowmobiling adventure on the Ottawa Valley Recreation Trail (OVRT), a journey that promises to be an enthralling experience spread over 1 to 3 days and spanning approximately 267 kilometers. This iconic route unfurls the spectacular vistas of the Lanark County, the Ottawa Valley, and the Frontenac County, acting as a gateway to the serene beauty of Eastern Ontario. As you traverse this picturesque trail, you'll have the chance to explore a string of charming towns and vibrant communities including Renfrew, Arnprior, Pakenham, Almonte, Carleton Place, Smiths Falls, Perth, Sharbot Lake, Snow Road, and Calabogie. Each leg of the journey offers a unique glimpse into the region's natural beauty and local culture, making your snowmobiling adventure on the OVRT not just a journey, but an unforgettable exploration of the captivating Ottawa Valley region.

Snowmobile Trails Off the Beaten Path
Do you love the thrill of exploring on snowmobile trails? If so, you'll be delighted by the fantastic opportunities that South Algonquin's backcountry terrain has to offer. Embrace the excitement as you venture along some of these ungroomed trails during your trip. However, it's important to be aware that traffic on side trails can be lighter, so it's crucial to be well-prepared and inform someone of your itinerary before embarking on your journey to experience the stunning views along the way! Safety should always be a top priority. So, get ready to immerse yourself in the breathtaking scenery and potential wildlife encounters on this trail, and have a fantastic time during your snowmobiling adventure in South Algonquin!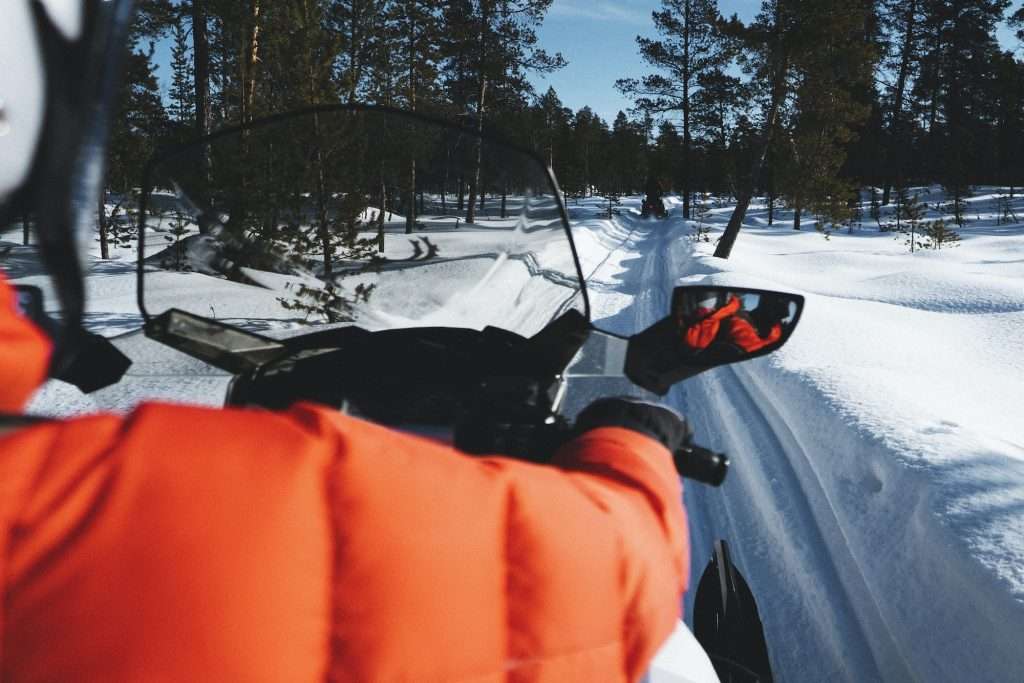 The thrilling Hardtack trails begin at Nipissing and McCauley Lake Rd at GPS coordinates 45.512440, -78.232735 in Whitney. Embark on an unforgettable adventure as this captivating trail takes you on a journey to the pristine Gliskning Lake, the serene Lobster Lake, the enchanting Hardtack Lake, and the awe-inspiring Headstone Lake. Experience the beauty of nature at its finest as you traverse through these picturesque destinations. The Hardtack trails promise an exhilarating snowmobiling experience with breathtaking scenery, making it an enticing choice for any outdoor enthusiast. So, gear up, embrace the thrill, and immerse yourself in the natural wonders that await you on this remarkable snowmobiling journey!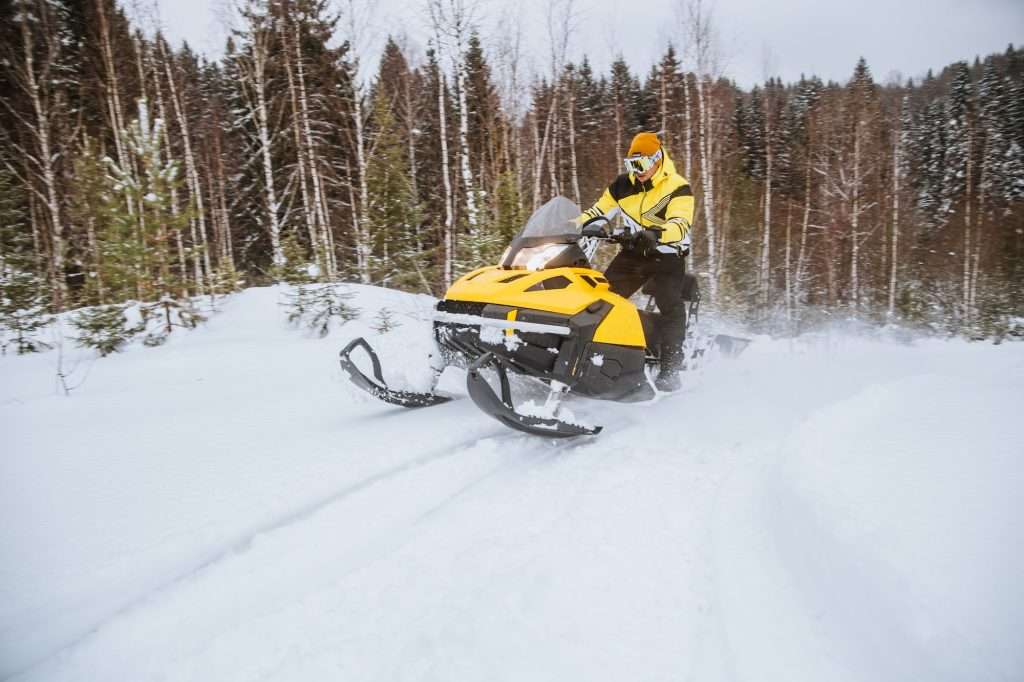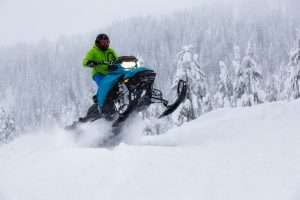 The trail begins at GPS coordinates 45.514559, -78.171497, heading both North and South. While we haven't explored this trail extensively ourselves, we've heard great things about its fun factor and the excellent fishing opportunities at some of the nearby lakes. One highlight we can vouch for is the breathtaking view from the top of the hydro line. To access it safely, make sure to take the side road to the right, just across the bridge, which leads to the top of the first big hill. We've witnessed some ATV riders attempting to ascend the hill directly, and it can be quite dangerous (and amazing to watch…), so using the side road is highly recommended.
Another exciting aspect of this trail is the excellent wildlife viewing opportunities it offers. As you venture through this scenic landscape, keep your eyes peeled for various wildlife species that may make an appearance. From stunning views to potential wildlife encounters, this trail promises an unforgettable experience.
SLBM Trails In South Algonquin
Embrace the thrill of exploration with the SLBM trails in South Algonquin! This fantastic collection of multipurpose trails caters to a wide array of outdoor enthusiasts, offering exciting activities such as snowmobiling, ATVing, hiking, biking, and cross-country skiing.
Whether you seek adrenaline-pumping rides on your snowmobile trails or ATV, peaceful hikes through breathtaking landscapes, or exhilarating bike rides through the wilderness, the SLBM trails have something for everyone.
During winter, let the fresh powder guide you as you cross-country ski along these scenic paths, making unforgettable memories amidst the snowy wonderland.
For more details on these breathtaking trails and the adventures that await, visit the official SLBM Trails website at http://www.slbmtrails.org/trails.html. There, you'll find trail maps, helpful tips, and everything you need to craft the perfect outdoor adventure. Before heading out, make sure to check the website for guidance on which trails are suitable for your chosen activity, including snowmobiling, as not all SLBM trails can accommodate snowmobiles.
Here is a list of the SLBM Trails
Bark Lake (2.6 km) *
Bear Mtn. (0.7 km)
Burnetts (4.2 km)
Burnetts Mtn. (0.7 km)
Crossover (0.5 km)
Eagles (1.8 km)
East Bluff (0.4 km)
Fish Lake Mtn. (2.1 km)
Loon (1.9 km)
Loon-Beaver (4.3 km)
Maurice's Dream (2.8 km)
Moose (2.8 km)
Partridge (2.6 km)
Ramblers Way (5.1 km) **
Raven (2.3 km)
Ridge (0.8 km)
Spectacle Lake (6.8 km) ***
Spectacle Ridge (2.4 km)
Wolf (2.1 km)
Wolf Lake Loop (1.3 km)
Things to see and do on your trip
In addition to snowmobiling trails, South Algonquin also offers other fun and engaging winter activities!
The winter experience at Algonquin Accommodations is simply incredible, offering a diverse array of activities that showcase the best of the season.
Fishing enthusiasts will delight in the opportunities available, including winter shore fishing at the Rolling Rapids Motel. The flowing river prevents the water from freezing, making it a perfect spot for year-round fishing. Additionally, the thrill of ice fishing awaits at Poverty Lake or Galeairy Lake. Easily accessible locations for ice fishing provide the chance to reel in impressive catches, but it's essential to check the ice conditions before venturing out for a safe and enjoyable experience.
For those seeking to explore the tranquil winter landscapes on foot, snowshoeing in South Algonquin and Algonquin Park offers an enchanting adventure. Serene forests, frozen lakes, and well-marked trails provide a magical setting for snowshoeing enthusiasts of all skill levels. Algonquin Accommodations adds to the convenience by offering free snowshoe rentals, ensuring guests can embrace the winter wonderland without any equipment worries. TIP: Try snowshoeing at the Algonquin Logging Museum!
The heartwarming tradition of winter campfires brings a sense of togetherness and joy, especially at Algonquin Accommodations. Gathered around crackling flames, surrounded by blankets, family, and friends, winter campfires become a focal point of shared stories, laughter, and sweet memories. Roasting marshmallows and sipping hot cocoa elevates the experience, creating an atmosphere of bliss and connection to the beauty of the winter season. Algonquin Accommodations provides fire pits at all our locations and firewood is available for purchase on site.
Cross-country skiing in Algonquin Park is a true delight, offering a chance to glide through the serene wilderness and marvel at the snow-covered landscape. The world class and well renowned Leaf Lake Trail stands out among the trail systems, catering to skiers of all levels with its well-groomed paths and stunning views. Algonquin Accommodations provides free park passes to all guests, allowing easy access to Algonquin Park's cross-country skiing trails, making the winter skiing experience even more accessible and enjoyable.
Visiting the Algonquin Park Visitors Center in winter unveils a unique perspective of this natural wonder. As the park transforms into a winter wonderland, the cozy Visitors Center becomes a hub of knowledge and guidance for both seasoned adventurers and first-time visitors. Inside, educational exhibits reveal the park's diverse flora, fauna, and rich history, while outside, snow-covered forests and frozen lakes create a peaceful ambiance that fosters a deeper connection to nature.
Whether fishing, snowshoeing, cross country skiing or simply taking in the breathtaking surroundings in the winter promises an unforgettable experience that leaves cherished memories and a profound appreciation for the beauty of the Canadian wilderness.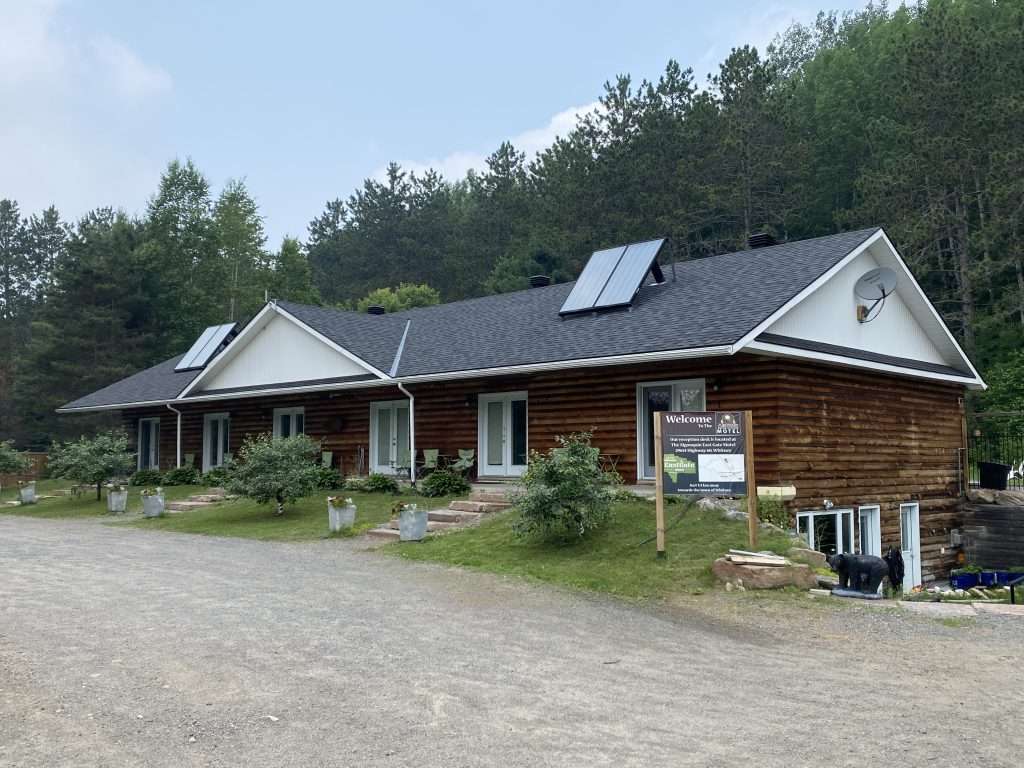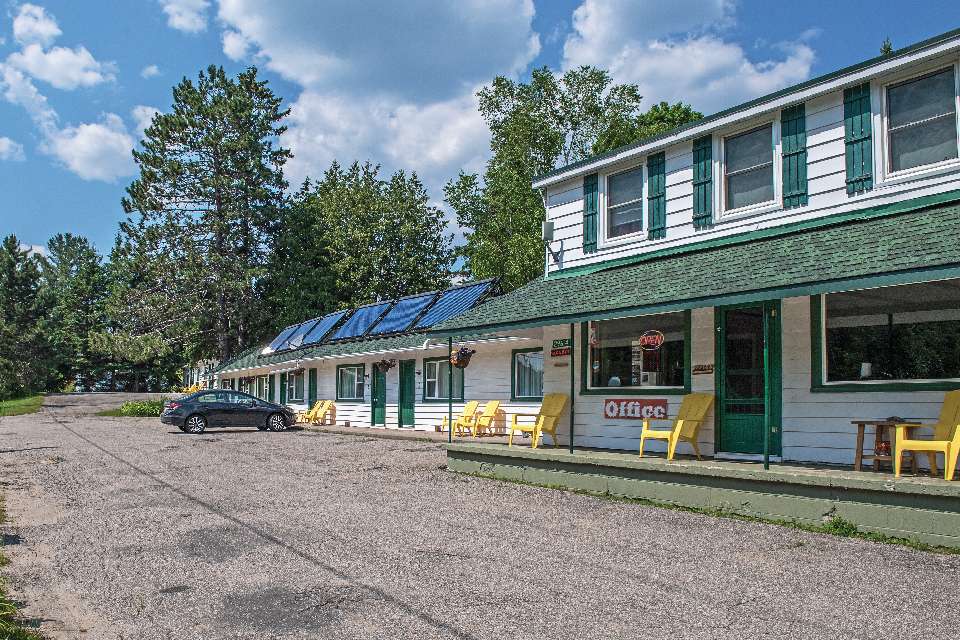 Hotels Near Snowmobile Trails
Make Algonquin Accommodations your ultimate home base for an unforgettable snowmobiling adventure. Our newly renovated rooms boast unique features like jacuzzi tubs and luxury shower spas, ensuring a comfortable and relaxing stay. With cozy beds, fire pits, BBQs, TV, and WIFI, you'll have everything you need for a perfect winter getaway.
Plus, enjoy the added perks of FREE equipment rentals, FREE truck and trailer parking and FREE park passes, making your stay even more convenient and enjoyable. The Dream Catcher Motel and East Gate Motel are open year around and conveniently situated with the best snowmobile trails right at your doorstep, providing easy access to the thrill of the outdoors.
In conclusion, South Algonquin offers an incredible snowmobiling experience with its miles of groomed trails and backcountry terrain. Whether you're a beginner or an experienced rider, there are trails to suit all skill levels, making it a fantastic destination for snowmobilers of every kind. Always be prepared for weather conditions, plan your trip ahead and don't forget to get your own copy of the OFSC TRAILS trail map from Snow Country.
As you venture through the breathtaking landscapes, remember to be prepared, prioritize safety, and show respect for the pristine environment. Don't miss the chance to discover why South Algonquin truly is a winter wonderland waiting to be explored. With its diverse snowmobiling trails and beautiful surroundings, South Algonquin promises a memorable and exhilarating journey through the heart of nature's splendor. Journey into wilderness with a single step at Algonquin Accommodations.
Do you need a snowmobile license in Ontario?
All snowmobile operators in Ontario are required to have a valid driver's license or snowmobile trail operator's card, and the snowmobile must be registered and insured. In addition, a trail permit from the 
OFSC TRAILS
is required to use their trails.
Can you drive a snowmobile on the road in Ontario?
Always check the municipality's snowmobile bylaws to understand what roads you can drive on with a snowmobile. Generally, you can drive a snowmobile alongside public roads, between the shoulder and the fence line and you must stay below 20 km/h on any road where the speed limit for vehicles is 50 km/h or less. 
Are snowmobile trails open in Ontario?
Ontario is proud to offer a world-class network of over 30,000km of snowmobile trails. Each winter you can check which trails are open using the OFSC trail guide.