Hike, bike, atv, snowmobile, snowshoe, ski, horseback & more
Are you ready for an unforgettable adventure that takes you through stunning natural landscapes and offers a range of exciting outdoor activities and physical challenge? 
Look no further than the newly upgraded Old Rail Trail in South Algonquin! 
This remarkable trail, part of the historical Ottawa Arnprior Parry Sound Railway which operated from 1897 until 1959, follows the Madawaska River for over 40km through the Township of South Algonquin. 
Our cozy lodges and cottages, located on the river right at the beginning of this magnificent trail system, provide easy access to the trail and a comfortable place to rest before and after your adventures.
Read on to learn more about the Old Rail Trail, activities and adventures you can explore, and where to stay in South Algonquin. 
Also read: 9 Hotels Near Algonquin Park and Other Places to Stay
Waterfalls and Lookouts in South Algonquin
Adventurers who take the Old Rail Trail its entire distance will visit no fewer than four stunning waterfalls along the way. These breathtaking sights offer a refreshing break during your getaway. 
The trail, which follows a typically flat plane, also boasts side trails that take you up to mountain vistas, making it a perfect adventure for outdoor enthusiasts looking for an extra challenge, and no matter what sport you take along the route.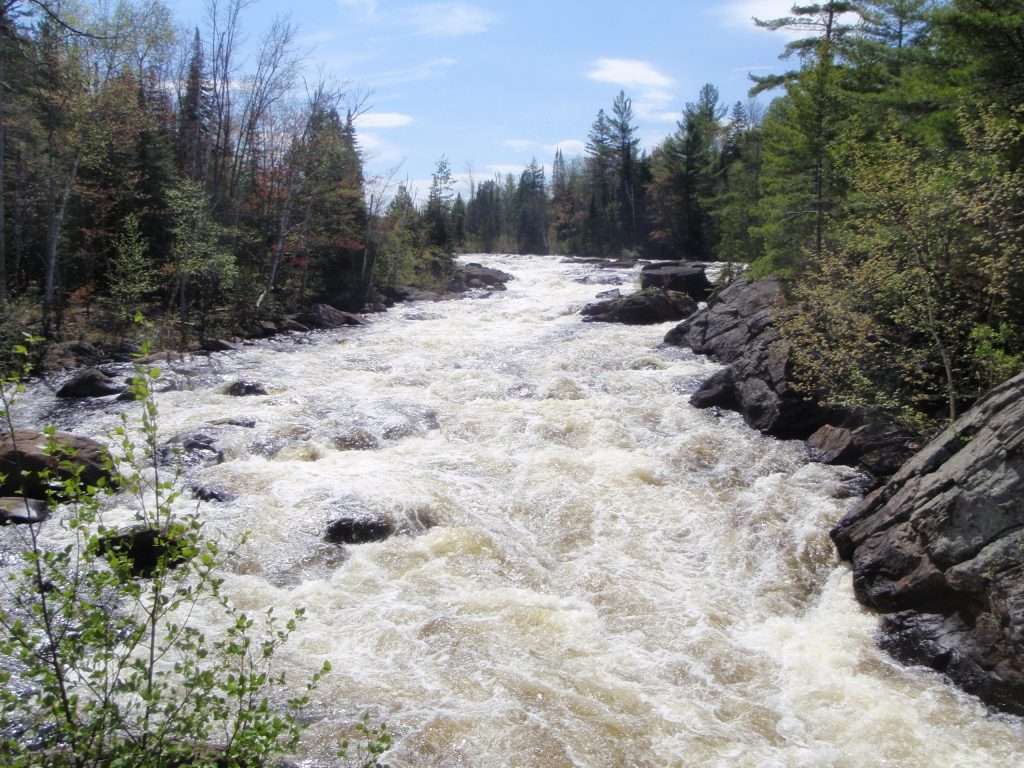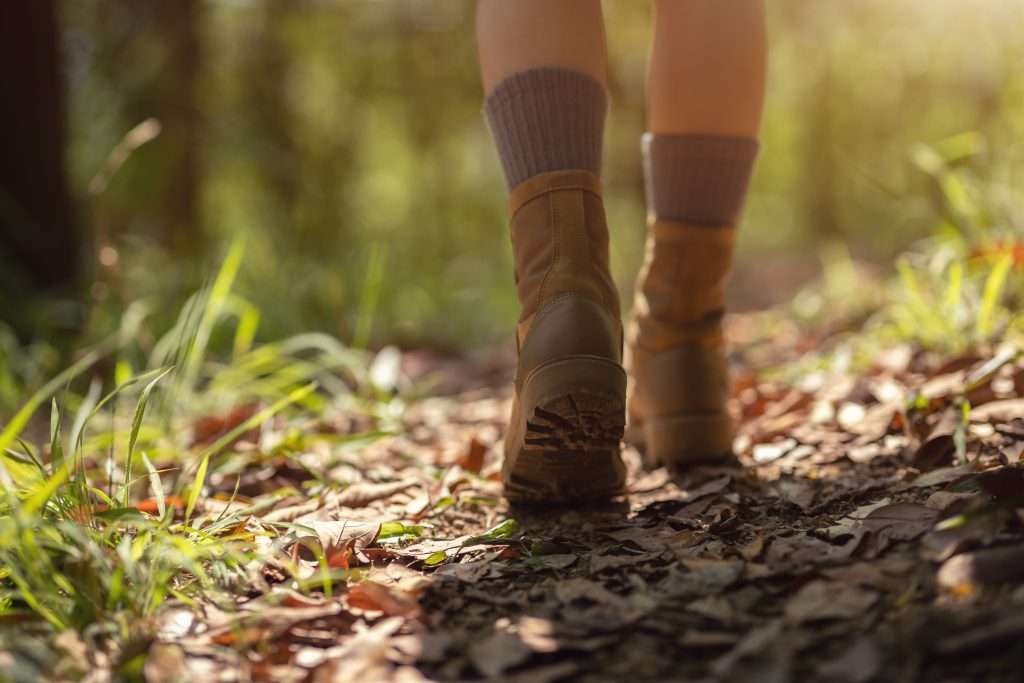 Accessible Hiking in South Algonquin
What truly sets the Old Rail Trail apart is its accessibility. Thanks to the South Algonquin Business Alliance and recent investments from the Eastern Ontario Trails Alliance and the government of Canada, it has been designed to multi-season, multi-use standards, which means it is fully accessible for people with mobility challenges, making it a trail that can be enjoyed by everyone. That means that whether you're walking, biking, ATVing, skiing or snowmobiling, this is the perfect trail for you.
Did you know that you can borrow equipment FREE from Algonquin Accommodations? We offer free bikes, canoes, kayaks, snowshoes and more! 
Also read: Algonquin Park Day Pass – Your Access to World Famous Wilderness 
Trail Activities in South Algonquin
This trail is designed as a multipurpose trail. Hike, Bike, ATV, Snowshoe, Ski, Snowmobile, Horseback ride and more! 
The Old Rail Trail also provides fun opportunities for fishing and kayaking, making it an ideal destination for those who love to be near the water. The Madawaska River is home to a variety of fish species, including trout, bass, and pike. The trestle at Rapid Lake provides an excellent location to capture views of the milky way, so even stargazers will find the trail attractive.
Also read: Exploring Algonquin Park Through the East Gate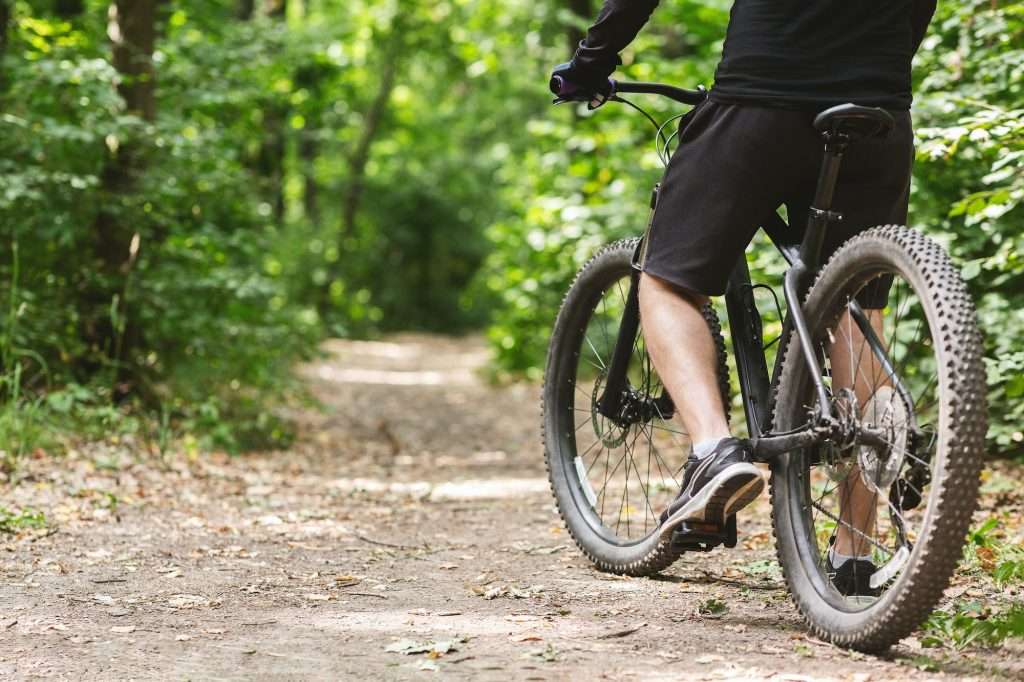 Places to Stay in South Algonquin
The adventure doesn't end when you leave the trail. At Algonquin Accommodations, we offer a range of accommodations to suit every need and budget. 
Our Rolling Rapids Motel now offers four newly renovated waterfront units that are fully accessible for those with mobility challenges. These units boast stunning new bathrooms with widened doorways, grab bars, and zero clearance showers, making them ideal for guests who want to enjoy a comfortable and convenient stay with us.
New in 2023, your stay comes with a free park pass to let you also explore nearby Algonquin Park at no extra cost, and FREE rental equipment to match the season and help you get out on the trails. Whether you're looking for snowshoes or bicycles or something in between, we've got you covered. In summer, trail and beach accessible wheelchairs are also available for borrowing at no charge through Four Corners Algonquin down the street. Hands down we offer the best value around.
Are you ready to find your path to adventure on the Old Rail Trail in South Algonquin? Book your stay now at www.algonquinpark.com and experience the best of Ontario's wilderness.