Visit this world-class art gallery featuring Canada's foremost wilderness and wildlife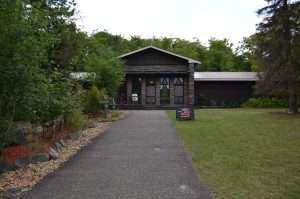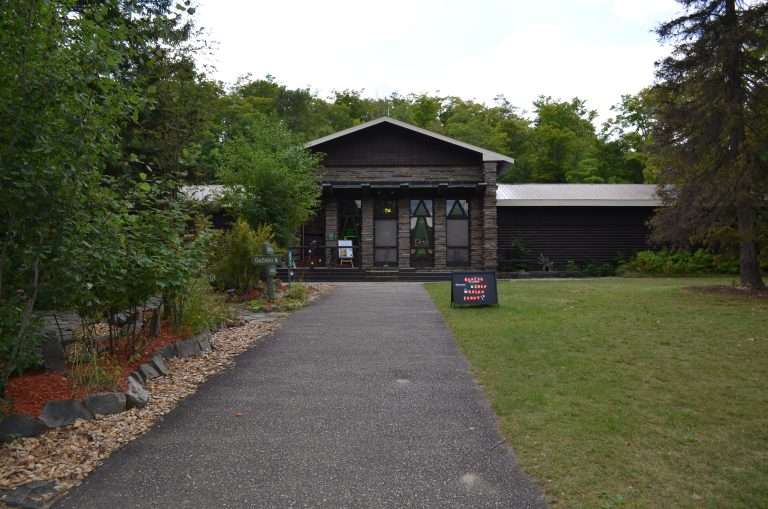 Most people who think of Algonquin Provincial Park think of beautiful scenery, camping, and wildlife – but it's also home to the Algonquin Art Centre. 
The Algonquin Art Centre is a world-class art gallery featuring Canada's foremost wilderness and wildlife artists including famous paintings by Tom Thomson.  
For those explorers who want to combine art and activity, culture and travel, a trip to the Algonquin Art Centre is a must-do to add to your itinerary when you visit the Algonquin Park neighbourhood.
The Algonquin Art Centre is a seasonal attraction, closed between November and May – but as of June 2023, the Algonquin Art Centre's doors have been reopened to the public until October. Plus, they even offer instructed art classes and an art gazebo for you to explore your own inner creativity. 
So grab your bags, paint brushes and start planning your next adventure, because you won't want to miss the latest exhibits on display! 
In this article discover: 

What is the Algonquin Art Centre




Impressions of Algonquin Gallery in Whitney, Ontario




Gallery House by David Kay

Affordable accommodations near Algonquin Provincial Park
Let's get started!
What is the Algonquin Art Centre?
The Algonquin Art Centre (or the AAC) is located within the borders of the Algonquin Provincial Park, easily accessible to travellers hoping to make a stop. 
 The AAC is a world-class art gallery showcasing incredible wilderness and wildlife scenes from some of Canada's foremost nature-loving artists. 
 Algonquin Park has always drawn artistic souls – including Tom Thomson, Michael Dumas and the Group of Seven. 
 Today, the park continues to attract painters, writers, filmmakers and performance artists who want to feel the inspiration of this beautiful stretch of raw nature. 
 The Algonquin Art Centre continues to feature classic Algonquin artwork while also showcasing and highlighting new works by Canada's top artistic talent – which means there's always something new and beautiful to feast your eyes upon! 
In addition to displaying works of art, the Algonquin Art Centre has created new initiatives to honour and expand on Algonquin's rich artistic history, including: 
Visual arts
Literary arts
Performance arts
Media arts
Artist-in-residence programs
Wilderness-related art projects
If you're lucky, you might even meet the Artist in Residence during your visit! Learn more about the AAC here.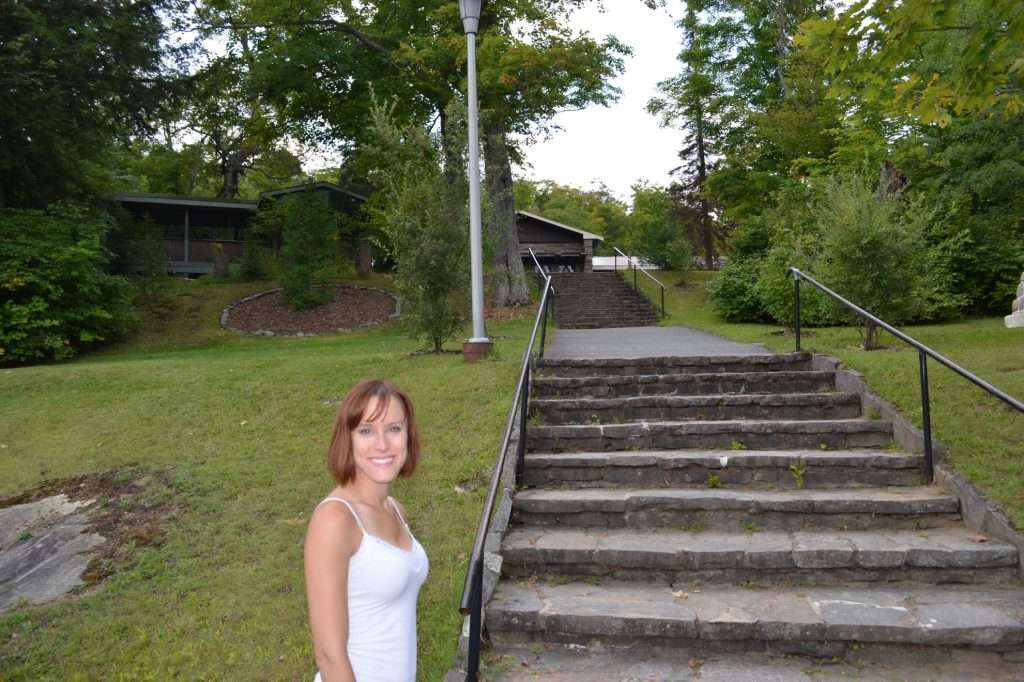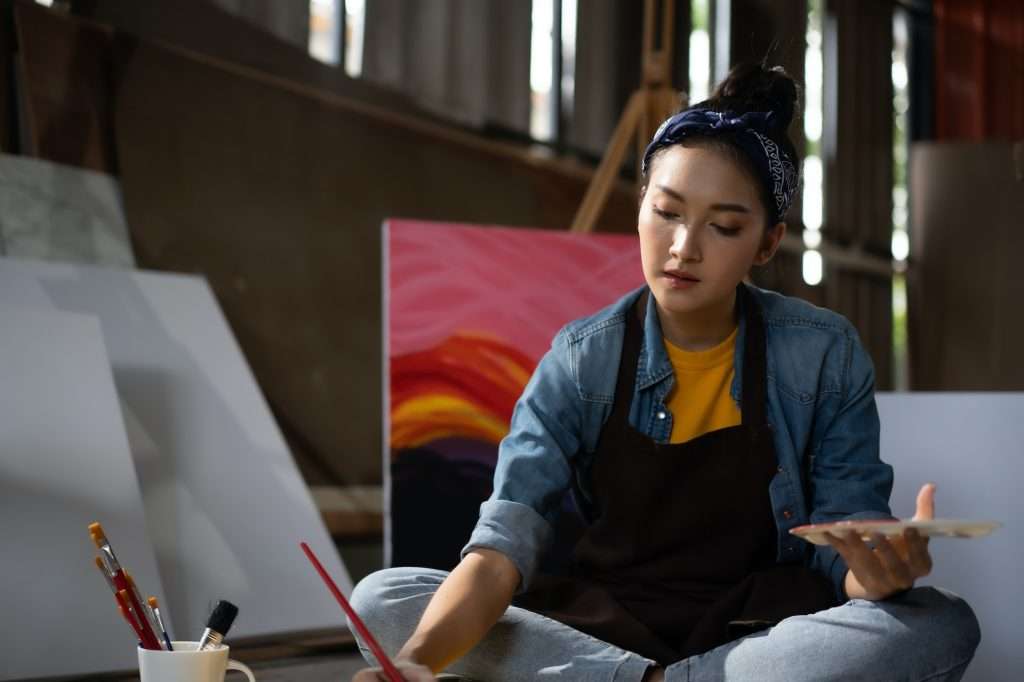 The Algonquin Art Centre Gallery Boutique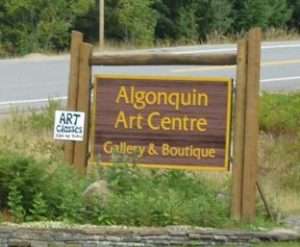 For those who love to leave with souvenirs, you're in luck!
When you're finished browsing the beautiful artwork and you just have to bring something home with you, you can make your way to the Gallery Boutique. 
Filled with Canadian made, eco-friendly, and hand-crafted creations, every visitor can return home with an authentic souvenir of their time in Algonquin Park. 
Creations range from jewellery and candles, to books and treats, to designs rendered in glass or metal, to wood and ceramic artwork. 
There is something for everyone at the Gallery Boutique – make sure you add it to your list of places to take your time. 
Algonquin Art Centre workshops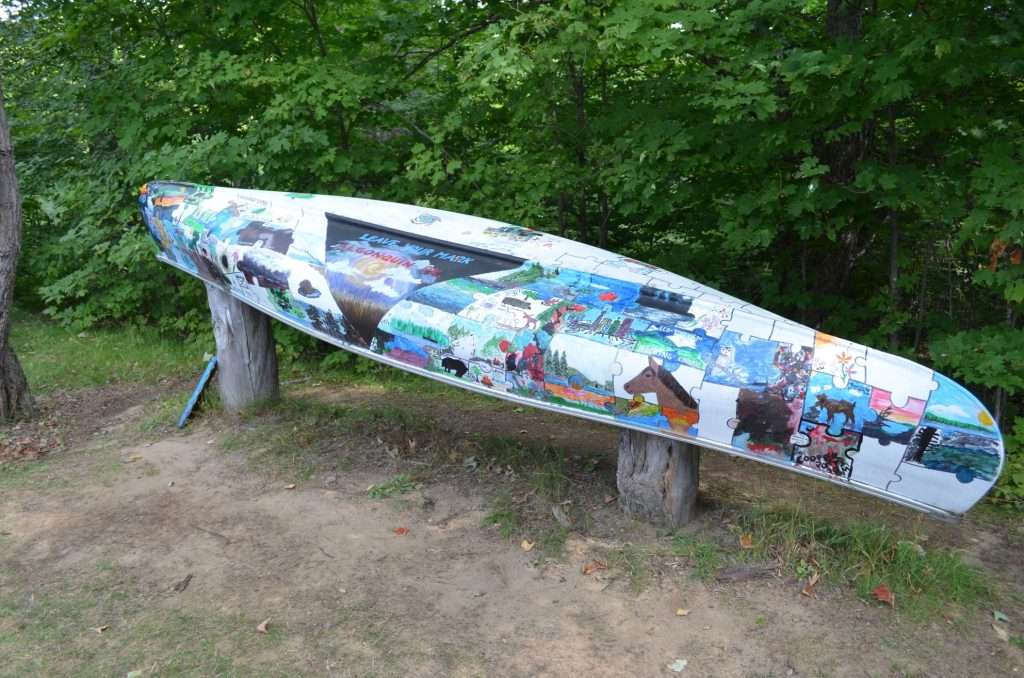 Whether you're staying in or around Algonquin Park for a while or you're just passing through, you might be looking for something really interesting to occupy your time during your visit.
You might be excited to learn that the Algonquin Art Centre holds workshops, art classes and daily art activities that are good for the whole family! 
Explore the events calendar and remember to register for events the day before you wish to join! 
Also read: Unleash Your Inner Adventurer on the Old Rail Trail in South Algonquin
Impressions of Algonquin Gallery in South Algonquin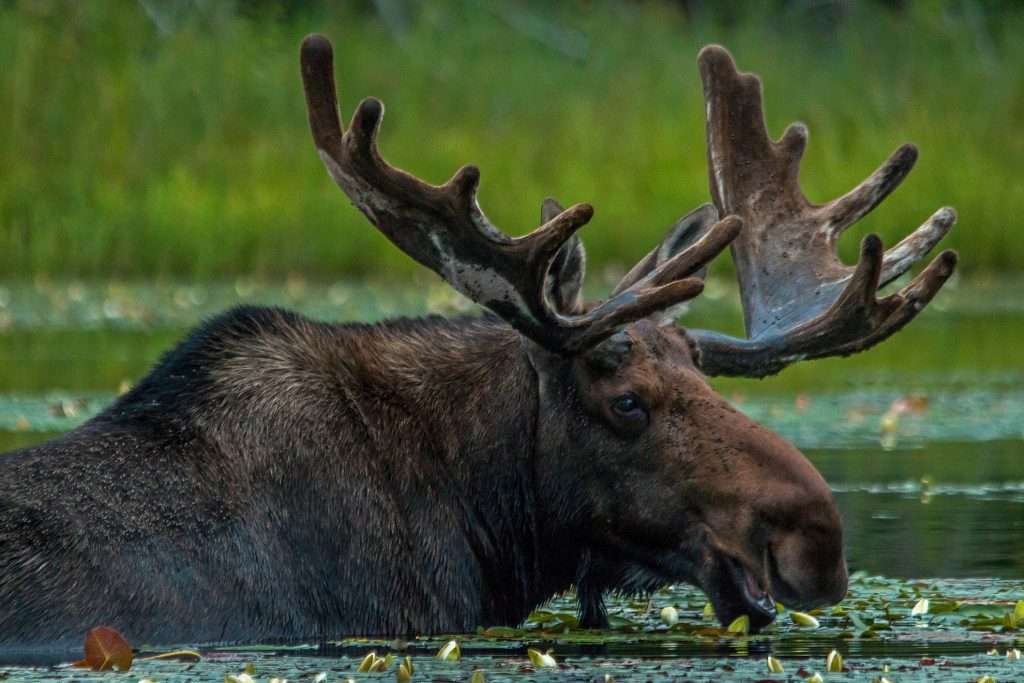 The Algonquin Art Centre isn't the only place to appreciate
Algonquin-inspired artwork when you visit the Algonquin Park area!
The Impressions of Algonquin Art Gallery is home to local photographers who capture breathtaking landscape shots and images of wildlife based on their experiences in Algonquin. Created by Steve Dunsford, owner of the Mad Musher restaurant in downtown Whitney, this gallery showcases a stunning collection of photos capturing the beauty of the surrounding area. With unparalleled quality, Steve's passion for photography shines through, serving as a beacon of everything that makes Algonquin Park and South Algonquin great!
As if that wasn't enough, Steve has joined forces with Algonquin Accommodations to offer his incredible photographic art in select rooms of our accommodations. Currently, his artwork is featured in our waterfront rooms at the Rolling Rapids Motel.
This means you can enjoy his captivating artwork during your stay and even have the opportunity to purchase great pieces directly from our reception.
You can follow Impressions of Algonquin Gallery on Facebook or Instagram to see some of the wonderful images available to browse or buy online!  
Gallery House By David Kay
South Algonquin boasts a thriving community of exceptionally talented artists, among whom David Kay, the visionary behind the Gallery House, stands as one of our favorites. Alongside his wife Dianne, David was once the proprietor of the East Gate Motel, which is now owned and operated by Algonquin Accommodations.
In the past, David dedicated countless hours to painting within the walls of the former art gallery located behind the East Gate Motel in Whitney, which has since been repurposed. Following the sale, David relocated his studio and established the Gallery House, a tranquil haven situated by the lake, adjacent to the Freshmart grocery store in downtown Whitney. David's artistic pursuits have taken him on a global odyssey, allowing him to capture the essence of diverse landscapes across Asia, Europe, Africa, New Zealand, South America, the Antarctic, and his cherished homeland, Canada. Nevertheless, Algonquin Park has always held a special place in his heart. Its rugged magnificence, the symphony of rustling leaves, the glimmering dance of sunlight on the water's surface, and the thunderous cascades of spring rapids and waterfalls continue to inspire him.
Today, David continues to pour his creativity onto the canvas, graciously showcasing his remarkable works to visitors. With more than three decades spent exploring, hiking, paddling, and wandering through this awe-inspiring landscape, David acknowledges that even multiple lifetimes would be insufficient to fully capture its boundless beauty and serenity. Nonetheless, he strives to infuse his paintings with the very essence of these captivating moments. It is his heartfelt desire that viewers, in beholding each brushstroke, experience the light and energy encapsulated within, finding solace and a profound connection to nature.
As the pioneering artist to partner with Algonquin Accommodations, David allows guests to appreciate his distinctive artwork from the comfort of their own rooms at several of our properties. Should you discover a piece that speaks to you, these captivating artworks are also available for purchase at our reception.
Ensure you include a visit to the Gallery House during your journey and bear witness to David's unforgettable creations firsthand.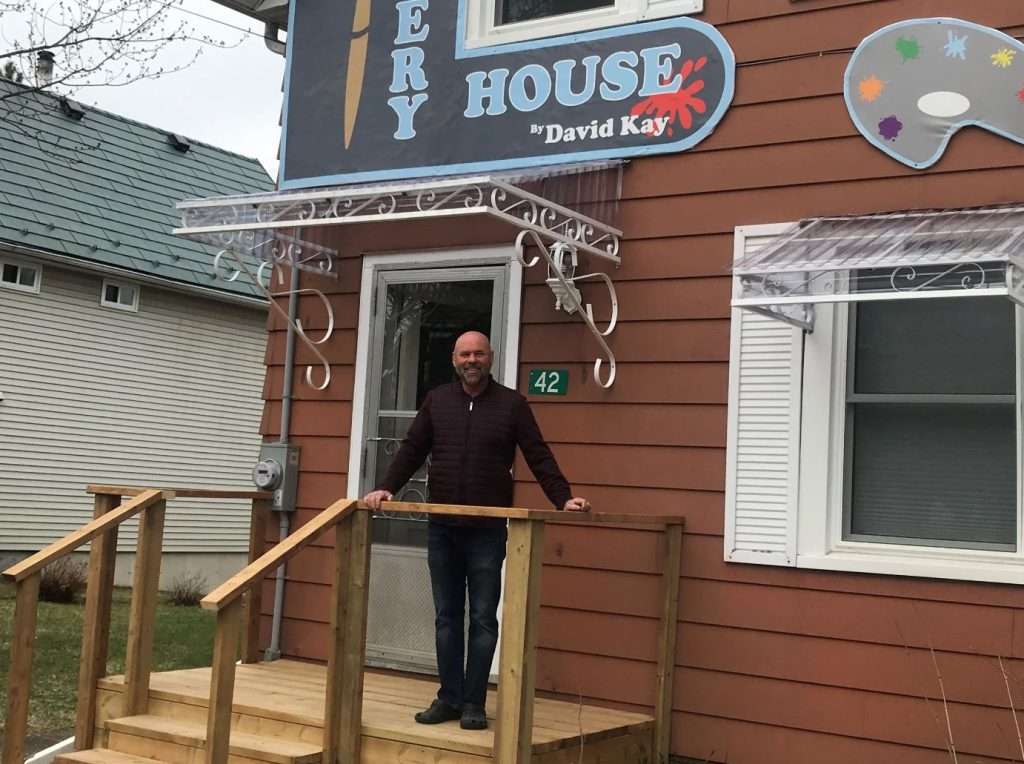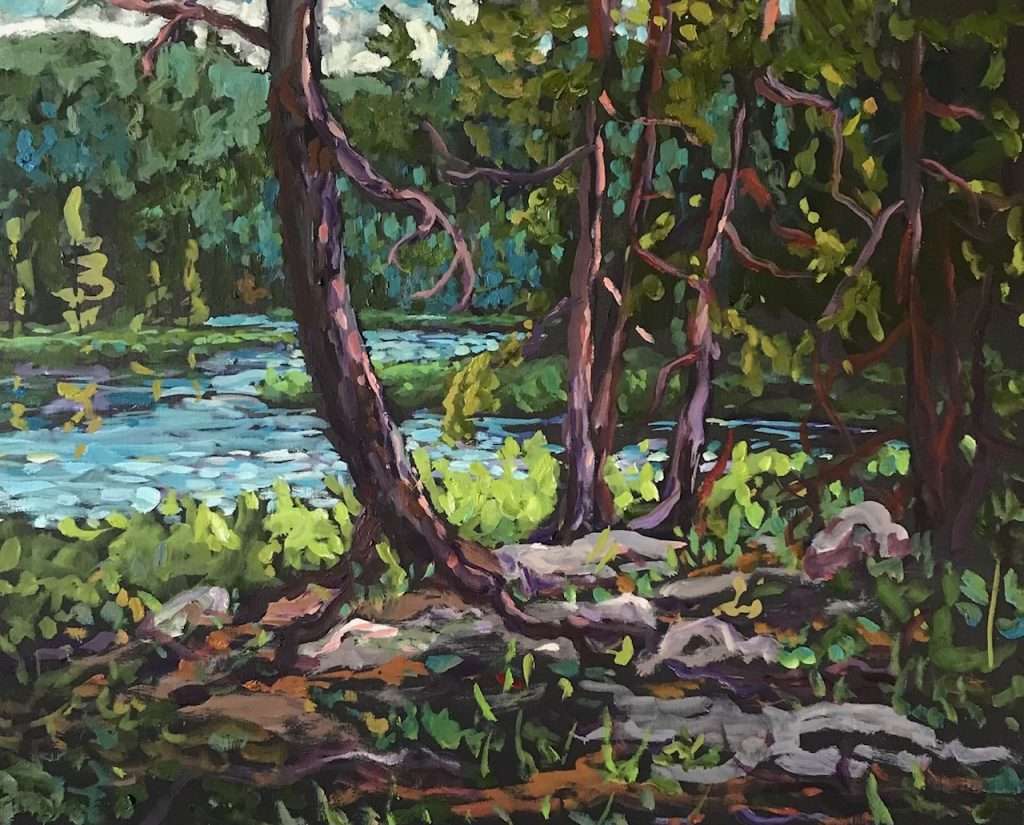 Art in Algonquin: Be Inspired!
 Algonquin's stunning landscape continues to inspire artists around the world. 
Due to the protected and untouched wilderness of the park, Algonquin offers a safe haven for artists to observe, be inspired and connect deeply with nature. 
Known for its windblown pines, sparkling lakes and rivers, rugged rock formations and abundance of wildlife, Algonquin Park becomes an unlimited canvas inviting artists to explore its boundless wonders and evoke profound emotions through their art.
In the intricate tapestry of nature's allure, artists discover an endless palette of captivating colors, intricate details, and breathtaking beauty, infusing their works with a deep sense of connection and meaning.
Also read: Algonquin Park Day Pass – Your Access to World Famous Wilderness 
Affordable accommodations near Algonquin Provincial Park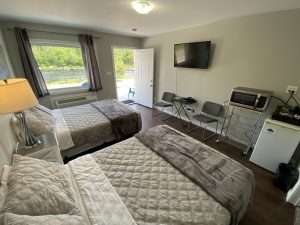 Whether you're here for a day or a season, the communities around Algonquin Provincial Park have plenty to offer in terms of comfortable, clean, affordable accommodations. 
Combine comfort with authentic nature and explore the humble township of South Algonquin. One of the best times to plan a visit is to come to see the spectacular Algonquin fall colours.  
South Algonquin – home to small villages like Whitney and Madawaska – are teeming with great rates, great restaurants, and great views.
Check out the top 5 motels to stay in in Whitney, Ontario, and find a place that puts you right next door to Algonquin Park. 
Bonus – when you stay at an Algonquin Accommodations location, your stay comes with a FREE Algonquin Park day pass! 
Heed the call of the artistic wild – book your stay today.
Want to rough-it rather than sleep in-doors? Our brand new Wilderness Campground is now open for bookings!