Discover the top motels in Whitney Ontario. Experience comfort, charm and adventure in this scenic destination.
Hello there, traveler!
Are you currently mapping out your upcoming road trip through or to Whitney, Ontario?
Whether you boast a wealth of experience exploring Ontario, or you're a newcomer to traveling through the wilderness of Algonquin Park, we have the ideal selection of charming, authentic and distinctive motels in Whitney, Ontario, all ready to cater to your overnight needs!
As you journey through the South Algonquin Township just beneath the southern border of Algonquin Provincial Park, you'll discover there are so many beautiful places to eat, sleep and relax.
In this article, we'll guide you through the top five motels in Whitney, Ontario, offering insights into the benefits of staying in a motel, and how to book your next adventure.
In this article learn:
a)     The benefits of staying in a motel in Whitney, Ontario
b)     The top 5 motels in Whitney, Ontario
c)     How to book your next adventure in Whitney, Ontario
Let's get started! 
The benefits of stayingin a motel in Whitney, Ontario
Motels offer roofed accommodations with a door between you and the great outdoors – which means that you don't need to love camping to get up close and rustic with all the beauty of nature.
Just steps from your motel doorstep in Whitney, Ontario is an area teeming with wildlife and packed full of hundreds of kilometres of recreational hiking, biking, snowmobiling and ATV trails. The South Algonquin community is ideal for nature lovers.
Whether you're adventure-seekers or comfort-seekers, you'll have access to the beauty of Ontario wilderness here in Whitney, Ontario.
Conveniently located along the Highway 60 corridor, Whitney township is a hidden gem just waiting to be explored.
Motels are a great place for folks looking for a long-term stay, or those just looking for a cozy place to pull off the road and spend a night during their travels. All the better when the motel you choose is a single step outside of nature!
In the list of motels we're about to share with you, each of the locations offer:
Easy to access and accessible rooms
Beautifully scenic views
Locations right in nature's backyard
Wifi connections to the wider world, and
Proximity to any needed amenities
When you stay at an Algonquin Accommodations property, you also get FREE access to:
Algonquin Provincial Park Day Passes!
Collection of points toward a free-stay reward!
Access to our guest rental program!
Also read: 9 Hotels Near Algonquin Park and Other Places to Stay
Keeping busy in Whitney, Ontario
There is always something to do in South Algonquin, no matter what time of year it is. Don't miss exploring the 11 BEST things to do in South Algonquin year round to give you ideas that will keep you as busy as you want during your stay!
You can access trails and waterways, beaches and playgrounds when you stay anywhere in or near Whitney, Ontario.
For instance, be sure to check out the newly refurbished Old Rail Trail during your stay! The South Algonquin community has made a huge effort to make the trail accessible and enjoyable to everyone, no matter your ability or skill level.
Okay – enough about the benefits of staying in a motel, and more about the actual locations!

Here you go: below are the five top motels to stay in while visiting Whitney, Ontario! 
The top 5 motels in Whitney, Ontario
1. Dream Catcher Motel in Whitney, Ontario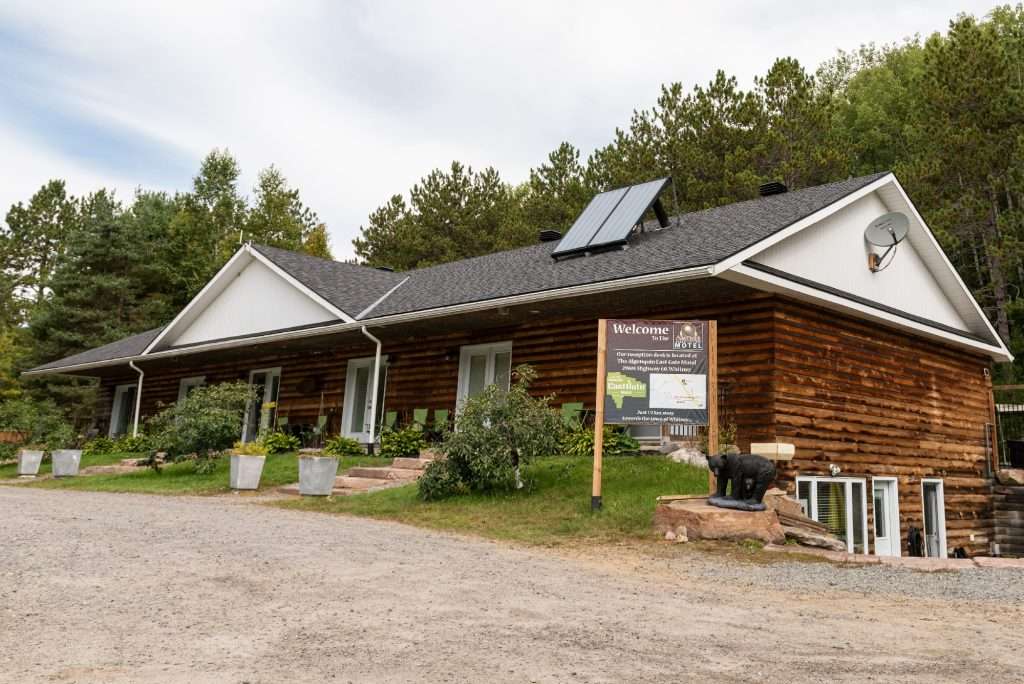 The modern comforts of a cabin surrounded by trees… It's like
camping without a tent!
If you plan to stay in South Algonquin for more than a couple
nights, the Dream Catcher Motel is your best option for value, cleanliness, and
comfort.
The motel has 11 unique rooms that you can explore now, and is located just minutes
away from Algonquin Park's East
Gate!
This motel is THE closest accommodation to Algonquin Park –
so if you plan to spend a lot of time in the park, this might be the place for
you! (Minutes away from the entrance and a FREE day pass? What's not to love!?)
2. East Gate Motel in Whitney, Ontario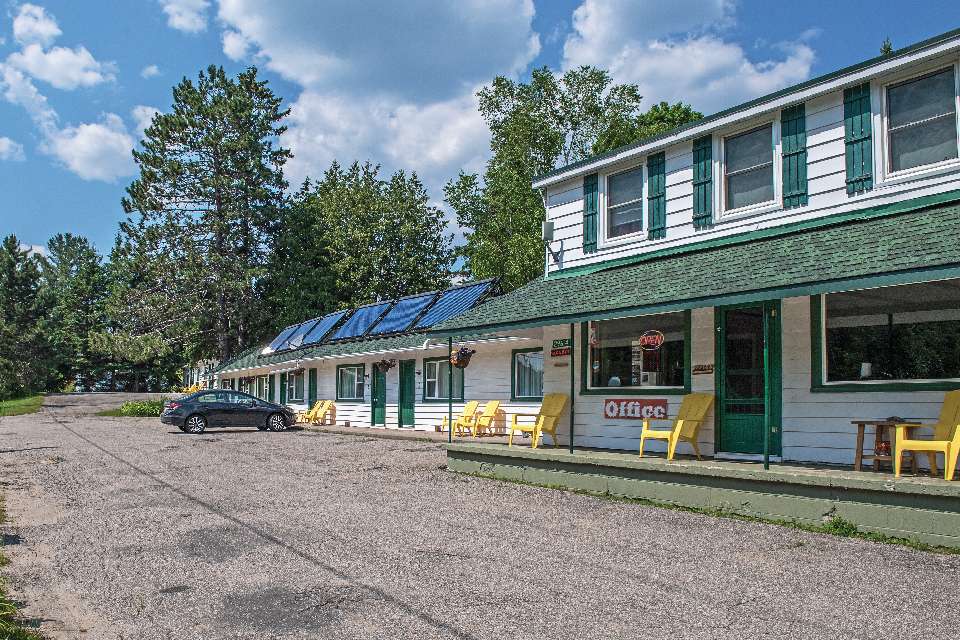 Snuggled in amongst the trees, the East Gate Motel is your
convenient and scenic home away from home!
If you're looking for an authentic small-town experience,
consider the reimagined, renovated East Gate motel, located right between
downtown Whitney and the East Gate entrance to Algonquin Park.
This rustic motel has some cozy modern perks, including
shower spas and pillow top beds!
And – bonus! – a bike rental store is attached so you can
cruise along Highway 60 or along the trails at your leisure.
3. Rolling Rapids Motel in Whitney, Ontario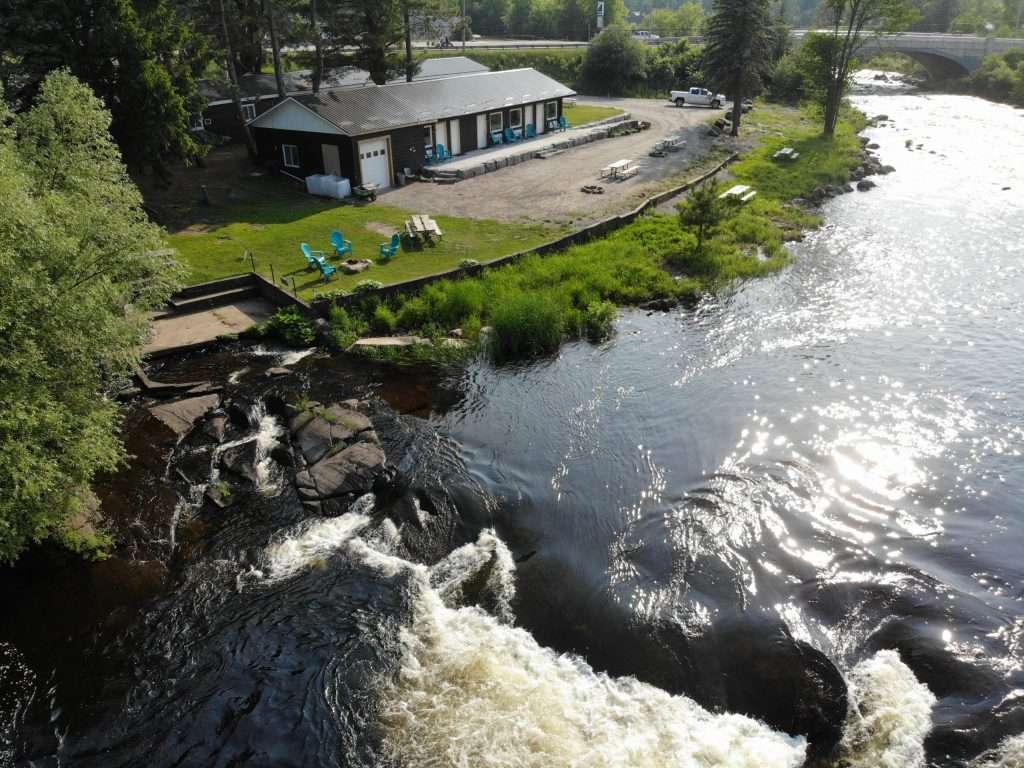 Nestled amongst the rocks and trees, the Rolling Rapids Motel
overlooks (you guessed it!): the soothing and picturesque rapids of the
Madawaska River.
Just a few steps between your bedroom door and the concrete
pad on which you can watch the rapids gently rolling by.
On warm, quiet nights, you can open your windows and listen
to the soft sounds of the water flowing against the rocks to lull you to sleep.

Along the Madawaska River is one of the best spots to see the
stars (weather permitting!) – and you can stargaze from the comfort of your own
backyard at this site in a cozy Muskoka chair!
This property was extensively renovated in May 2023 to give
visitors the BEST value for their accommodation in South Algonquin. Feel free
to explore the rooms before you book your stay!
Only steps away from delicious restaurants, shops and a
grocery store, you can kick back and stay a while at the Rolling Rapids Motel!
Also read: Shooting Stars Galore: Your Guide to the Best Meteor Showers of the Year
4. Bellwood Inn in Whitney, Ontario
While Bellwood Inn isn't technically a motel, we had to include it on this list! Look no further for your rustic lodge away from home!
Bellwood Inn is our family run accommodation comfortably settled in the Bellwood forest. Steeped in history and familiar with change, Bellwood Inn has been everything from a general store to a blacksmith shop to a pizza parlour since it opened in 1929.
Yes, Bellwood Inn is full of history and character – and it's also newly renovated to include private en-suite jacuzzi bathrooms (in select suites), pillow top beds, and authentic country charm!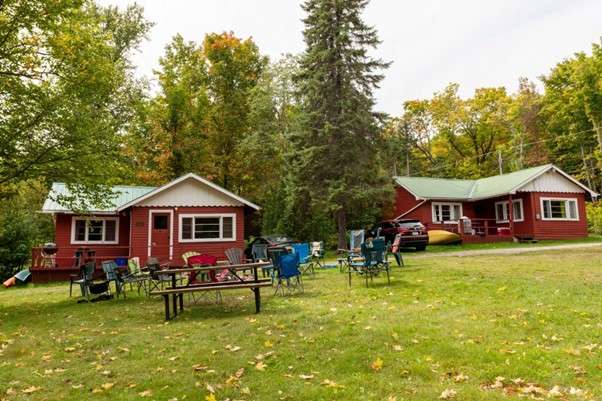 Have you ever thought to yourself: "I would just love to spend the night in a retro cabin built in the 1950s and made out of scrap lumber!"
If so – you've found your niche!
Although some updates have been made since the 50s, these cabins are as retro as they come for those looking for a place with (very) old-school charm.
These cabins are not meant for families – but they are meant for those folks who enjoy local drinks and live music in the evening, because the local bar is part of the property!
*Note: the Bongopix is not an Algonquin Accommodations property, so you'll have to take a look at their website to learn more about their perks and bonuses!
Book your next adventure in beautiful Whitney, Ontario
 This is by no means an exhaustive list of places to stay in the South Algonquin area!
We have plenty of other recommendations if you're interested in exploring ALL your options before making your choice.
The bottom line is: no matter where you stay in South Algonquin, you'll have access to Ontario's wilderness in a way you just can't find in the city.
Get back to nature, let your soul settle and your mind expand in the great outdoors like you've never seen it before.
We believe (as does science) that reconnecting with nature is good for the body and the soul – so do yourself a favour and book your next adventure in South Algonquin!
We can't wait to share our Whitney, Ontario community with YOU!
Looking for somewhere a little more rustic? Our Wilderness Campground has just opened up! We're looking for some first-timers to come out and try one of our 15 campsites – and offer feedback so we can shape the development of this new establishment. And since it's part of Algonquin Accommodations, all the free perks listed above are included in your stay!