Looking for food or supplies during your trip to South Algonquin? Lake of Two Rivers has what you need!
South Algonquin has plenty to offer in terms of hiking trails and scenic views – and there are also plenty of places to eat great food, shop at local stores, and rent equipment. 
If you're like us – and most travellers – good food is a big deal when you're on the road! That's why we recommend the Lake of Two Rivers Cafe and Grill, located in Algonquin Park.
From online ordering to equipment rentals and gift shop items, Lake of Two Rivers has it all! 
Find out why this stop is worth the visit as you journey through Algonquin Park. 
Scroll down to learn more about
Lake of Two Rivers – the site
The Lake of Two Rivers Grocery and Camp Store 
The Lake of Two Rivers Cafe and Grill 
Lake of Two Rivers Outdoor Theatre
Lake of Two Rivers Beaches
Where to stay when you plan to visit the Lake of Two Rivers
Lake of Two Rivers is located in the Algonquin Provincial Park at km 31.8 along the Highway 60 corridor connecting Huntsville to Whitney to Madawaska and beyond. 
Lake of Two Rivers offers:
241 wheelchair accessible campsites,
RV campsites,
Showers and laundry facilities
Three beaches
A restaurant, and a store
What's not to love with a place that has it all?
What's more is the Old Rail Trail biking and hiking trail is easily accessible from the Lake of Two Rivers storefront.
Open seven days a week, 7:00am to 9:00pm, and operating from May to mid-October, Lake of Two Rivers is your go-to destination when you need supplies fast, or are simply seeking the comfort of a cooked meal during your travels. 
Read on to find out what you can expect to find when you make a stop at the Lake of Two Rivers! 
The Lake of Two Rivers Grocery and Camp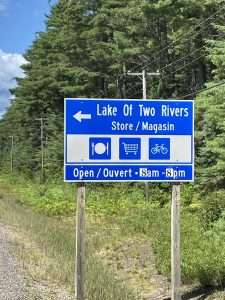 Whether you're just cruising along Highway 60 and need a place to stop and rest, or you're planning to stay for a while, Lake of Two Rivers is a great spot to stop. 
You can get hot meals on-the-go or groceries and supplies at this Camp Store – and that's not all. 
If you're looking for groceries, you can expect to find*: 
Frozen meats 
Assorted fresh produce including fruit and veggies
Dairy products
Drinks 
Bags of ice 
(* while supplies last)
If you're exploring gear rather than groceries, then you can also explore the goodies at the Camp Store, such as:
Camping supplies 
Other exploration gear for rent or purchase 
Mountain bike and helmet rentals (helmets included in bike rental price)
Child-friendly bike trailer rentals for kids and pets to tow along
Fishing equipment 
And more 
***Pro Tip*** Stay with Algonquin Accommodations for free equipment rentals such as Bikes, Electric mini bikes, canoes, kayaks, paddle boards and more! Plus get a Free Algonquin Park Passes
The added bonus is that this store also has a gift shop included with Algonquin Park merchandise! 
If you're looking for a souvenir for yourself, or a token to bring home to a friend or loved one, then you have options to explore at the Lake of Two Rivers gift shop.
Also read: Algonquin Park Day Pass – Your Access to World Famous Wilderness
Lake of Two Rivers Cafe and Grill
Whether you're in the mood for tea and treats, a burger and fries, or deli sandwich and chips – you're in the right place when you stop at Lake of Two Rivers Cafe and Grill. 
Lake of Two Rivers offers plenty of meal options, including (but not limited to):
Hot lunch and supper time meals 
Full breakfasts 
Gourmet coffee 
Fresh baked goods 
Kawartha ice cream and milkshakes
Salads 
And more 
The best part is, you can order from the menu online so that your hot meal is ready for you to pick up at an agreed-upon time while you're travelling! 
You can scan the website to browse some of the tasty meal options that may be available (depending on supplies, of course) at one of our favourite places to stop and eat in South Algonquin.  
Also read: Explore Algonquin Park Through the East Gate
The Lake of Two Rivers Outdoor Theatre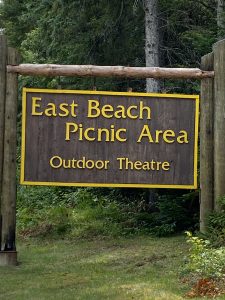 Nestled alongside Highway 60, the Outdoor Theatre at Lake of Two Rivers in Algonquin Park, Ontario, stands as a captivating open-air amphitheater. Designed to accommodate over 1,000 individuals, it boasts bench-style seating that offers a unique and immersive experience amidst the breathtaking natural surroundings.
The Outdoor Theatre serves as a versatile venue, hosting a variety of events that add to the park's allure. As the sun dips below the horizon, the amphitheater comes alive with captivating evening programs that illuminate the park's rich history, wildlife, and cultural heritage. These programs often showcase the park's unique ecosystem and allow visitors to deepen their understanding and appreciation for the natural wonders surrounding them.
Moreover, the Outdoor Theatre plays a central role in hosting special events, adding a touch of enchantment and wonder to any gathering. The amphitheater's natural setting creates an unforgettable backdrop for weddings, offering couples a picturesque location to exchange their vows and begin their journey together surrounded by the beauty of Algonquin Park.
One of the most thrilling and sought-after events held at the Outdoor Theatre is the renowned Public Wolf Howls. As dusk falls and darkness envelops the park, visitors gather in anticipation, eagerly awaiting the spine-tingling experience of hearing the distant howls of wild wolves. Led by experienced park staff or naturalists, these mesmerizing howls allow visitors to connect with the untamed spirit of the park and its elusive inhabitants.
The Outdoor Theatre, with its scenic setting and ample seating, exemplifies Algonquin Park's commitment to providing memorable and engaging experiences to its visitors. It not only serves as an educational platform for understanding the park's ecological importance but also as a place where cherished memories are created, making it a must-visit destination for both locals and travelers seeking to immerse themselves in the splendor of Algonquin Park.
Also read: Algonquin Fall Colours – Your Guide to South Algonquin's Breathtaking Beauty
The Lake of Two Rivers Beaches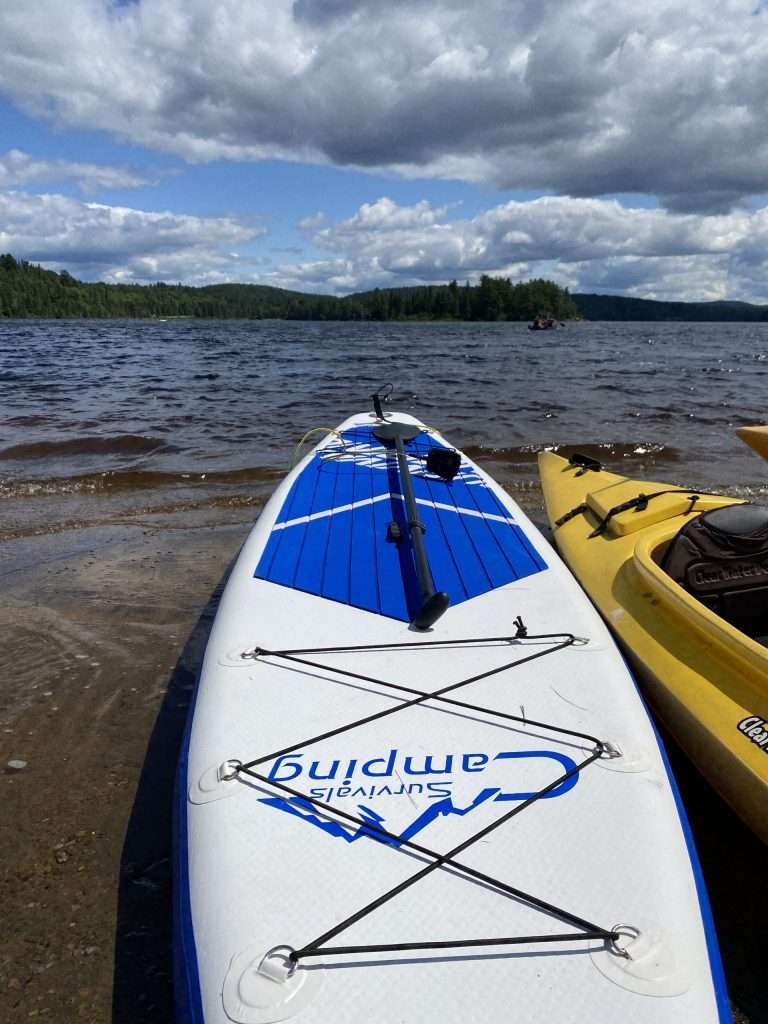 Lake of Two Rivers in Algonquin Park, Ontario, boasts three enchanting beaches that offer diverse and captivating experiences for visitors. East Beach, West Beach, and North Beach form picturesque and popular destinations, each with its own unique charm. Their scenic locations along the lake's shores provide breathtaking views of the surrounding wilderness, creating a serene and tranquil atmosphere that complements the natural beauty of Algonquin Park.
East Beach stands out for its long and warm shallow shoreline, making it an ideal choice for families with children. The gradual slope into deeper waters ensures a safer swimming environment, while the shallowness keeps the water pleasantly warm during the summer months. This inviting beach invites visitors to sunbathe, take leisurely walks, and indulge in building sandcastles.
At the Lake of Two Rivers campground, West Beach emerges as a popular favorite. Despite its occasional busyness, it rewards beachgoers with an awe-inspiring view stretching along the lake's long side, enhancing the overall beach experience.
For added convenience, North Beach lies right off Highway 60, offering easy accessibility. This well-equipped beach features buoy markers, clearly indicating water depths, ensuring a safe and enjoyable swimming experience for all.
Whether you seek the warm and shallow waters of East Beach, the scenic beauty of West Beach, or the accessible facilities of North Beach, Lake of Two Rivers accommodates everyone's preferences. Embrace a memorable and relaxing beach getaway amidst the enchanting natural splendor of Algonquin Park.
Where to stay when you plan to visit the Lake of Two Rivers
Although Lake of Two Rivers is itself a campground, it is usually incredibly busy. It can be hard to secure a booking unless you've planned to stay here way in advance.
If a busy campground in the middle of the park is not what you're looking for, you could also stay at one of our Algonquin Accommodations locations!
Algonquin Accommodations has opened a new campground! Named the Algonquin Wilderness campground it features accessible bathrooms, outdoor showers, ponds, picnic areas and a creek. Located in Whitney just minutes from the East Gate of Algonquin Park. It's close to all the amenities you need for an awesome camping trip including a LCBO, Grocery Store, Fuel and food! The best part? Every campsite comes with a FREE Algonquin Park Pass and FREE equipment rentals.
Travel around, do some biking and hiking, explore all the things South Algonquin has to offer – and then rest and stay with us!
Whether you're into cozy motels or beautiful campgrounds, you can find something that suits your needs here with Algonquin Accommodations.
Need more ideas for your stay? Visit the Algonquin Art Centre, or consider this 3 day itinerary blog by the South Algonquin Business Alliance for more ideas!